From Floor Covering Weekly-Environmental sustainability is a topic that the floor covering industry has avidly embraced. Leading manufacturers in all product categories take valiant efforts to ensure they are harvesting responsibly, certifying products with stringent tests for VOCs and recycling when possible. In vinyl, however, pure virgin raw material is the route many LVT manufacturers take for their products while other manufacturers of vinyl have continued to close the loop with recycled content.


According to industry insiders, the key to distinguishing when recycled content can and should be utilized lies in the thickness of product layers as well as the environmental fidelity of a supplier.

Amy Costello, environmental sustainability manager for Armstrong World Industries, explained that the structure of some flooring products limits the quantity of recycled content that can be used.

"Pure virgin PVC is used in some products, like heterogeneous sheet or LVT, because the layers or films that comprise these products cannot be manufactured easily with recycled materials," Costello said. "The reason is because the profile is so thin that the durability and performance can be compromised. Other products like homogeneous sheet vinyl can easily handle recycled content."

Fortunately, she added, ASTM F1700, Standard Specification for Solid Vinyl Floor Tile, distinguishes when vinyl products meet the necessary standards for performance. "So, as long as products meet the ASTM standards, you will not have to make a distinction between when recycled content is okay in vinyl and when pure virgin vinyl is necessary," Costello explained, adding that another important element of vinyl is the total binder content which impacts the durability and performance of products. This is also ensured through the ASTM F1700 specification.

FreeFit only manufacturers LVT that is pure. And according to Ray Pina, vice president of marketing at FreeFit, the benefits of using pure virgin material far surpass what the benefits of using recycled content. One variable factor of using recycled content, he explained, is the reliability of performance.

"All of our products utilize pure virgin vinyl so it is more flexible and you know exactly how it's going to perform. Also, because it is 100 percent pure virgin vinyl, we're not only certified for low VOCs but it also contains no phthalates," Pina said. "Some environments like healthcare won't even accept products with recycled content because they don't know exactly what's in it. It's interesting because in laminate, recycled content is a great thing because it's wood chips and sawdust. But in vinyl, if it's from the wrong company, it can be anything from car tires and power lines to copper wires."

And while it might cost more to manufacture products that are pure, Pina said that people who care about purity don't care as much about price as long as they are getting a product they can trust. "They'll pay a little more for flexible and pure and that's what you get from FreeFit," he added.

When it comes to recycled content, Metroflor's president and CEO Russ Rogg said that it's a matter of choosing which advantages you want to promote, or which performance characteristics are most critical to a given LVT platform, including recyclability.

"Using recycled content on the front end is value-conscious, but may result in reduced dimensional stability and present difficulties when attempting to recycle a product at the end of its useful life. Products that utilize 100 percent virgin vinyl are generally more dimensionally stable and provide for easy repurposing when reclaimed for recycling," he explained.

Rogg noted that over the years, the inclusion of recycled content within a product has been introduced into the industry's mindset as being of utmost importance from a sustainability perspective. But, he said, recently the industry's vision has been widened to acknowledge that there is more to the sustainability of a product than just recycled content.

"With decades of experience in the industry and in consideration of the ever-growing concern over potential health effects of various flooring ingredients, Metroflor Corp. conducts extensive testing for heavy metals and hazardous chemicals when we choose to use recycled content in our LVT products. This ensures those additives do not exceed established industry values," Rogg said.

He added that Metroflor continues offering more and more products manufactured from 100 percent pure virgin vinyl, coupled with non-phthalate plasticizers. This, Rogg said, facilitates that its products can be safely repurposed.

"We believe that beyond performance, 100 percent virgin vinyl is of prime importance because of its purity for future recyclability," he added. "For example, we've just introduced the REVISE program for our new Aspecta brand of 100 percent virgin vinyl LVT."

REVISE is a simple procedure for contractors to follow, with Metroflor overseeing all the logistics for returning their installation cuttings to the company to be recycled. According to the company, reclaimed content will either be utilized for backing material in other Metroflor branded products or may be processed into car, boot or floor mats. Potentially, vinyl flooring removed as part of the installation process can be included but if it is a non-Metroflor product, it must be tested in advance. The assurance that Aspecta's products are 100 percent virgin vinyl eliminates any doubts about their recyclability.

Mannington Commercial is constantly at the forefront of sustainability. Recognizing that billions of pounds of flooring are discarded each year, making its way into landfills, the company has spent vast resources to invest in a closed loop sustainability program for vinyl.

"We have been active recyclers in both product lines. In commercial sheet, we identified postconsumer waste streams, such as carpet and phone books, that could be utilized as recycled content in our Relay RE commercial sheet vinyl. LVT production is a multi-layered dry process that can consume recycle streams," said David Sheehan, vice president of commercial hard surface at Mannington.

However, Sheehan explained that it is important to identify waste streams that are suitable for the North American market. "Many competitors that are located in Asia are unfortunately accessing waste streams that include heavy metals and discontinued plasticizers," he noted. "When you control your waste stream, there is no scenario that requires virgin vinyl. That is the beauty of vinyl! It can be reprocessed multiple times with little to no side effects. Much of the concern for virgin PVC stems from the concern of waste streams."

And when recycled content is acquired from irresponsible waste streams, that is where there is potential for pitfalls. And according to Sheehan, not all recycled content is created equal.

"Recycled material is only as good as the regulatory requirements of the country of origin that were in place when it was made. Materials that are regulated now, like heavy metals, but not when or where it was made originally must be taken into consideration," he explained. "The recycled material is also subject to the environs of the area in which it lived out its first life. The end-user's knowledge of any recycled material's composition is limited to the trustworthiness of the manufacturer of the material. Ultimately, the responsibility of quality control is with the flooring manufacturer. End-users should buy only from trusted manufacturers."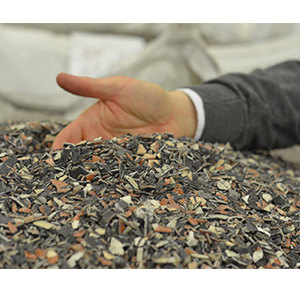 Mannington Commercial will take back any U.S.-made Mannington vinyl and recycle it into heterogeneous sheet.
Related Daily Update Records
- Single-Family sector leads housing to higher ground
- Domotex Asia/Chinafloor 2016 a success
- Metroflor wins two gold awards in ADEX 2016
- Tim Curran receives NTCA Lifetime Achievement award
- Armstrong Flooring announces wood price increase
- 50 Floors acquires actor Richard Karn as spokesperson
- United Flooring Group becomes Armstrong Flooring Elite Dealer
- Florim USA to participate at HD Expo 2016
- INSTALL members support Build Health International
- Metroflor to introduce new LVT at NeoCon